Shipping your car to Europe? Car shipping to Europe can start at $749, but car shipping prices vary based on the port of origin, port of destination, type of vehicle shipped, international car shipping method (private container shipping, shared container shipping, and RoRo shipping), and more.
We internationally ship an average of 2,000+ cars every month from USA, Europe, and other parts of the world. In addition, we ship hundreds of motorcycles, boats, RVs, and general cargo to European countries.
Our own domestic trucking department allows us to provide you with an effortless auto transport experience from pick-up to delivery! Shipping your car to Europe from your location is easy- all we need is the address and contact information of where the car needs to be picked up from, and our team gets right on the job. Once the car arrives at one of our port terminals, we prepare to ship the car to Europe. First time with international car shipping? Don't worry! Our expert car shipping agents are ready to assist you every step of the way as you ship your car to its destination country. With more than 25 years of experience in the international vehicle shipping services business, we are here to help you throughout the overseas shipping process for your added peace of mind.
THE LEADER IN CONTAINERIZED INTERNATIONAL AUTO SHIPPING

How Does Shipping Cars to Europe Work?
Roll-on Roll-off (RoRo shipping): RoRo shipping is typically the cheapest way to ship a car to Europe in terms of car shipping rates, but least secure. In the roll-on roll-off process for shipping vehicles, the car is physically driven onto the ship and physically driven off the ship. With this method of shipping a car to Europe, make sure you do not place additional items in your vehicles as other parties have access to your vehicle. Also, make sure your car can run and drive or you will incur additional costs for the handling of vehicles that cannot be driven.
Shared Container Shipping: Although shared container car shipping may take more time due to waiting for the ocean container to be filled, it allows you to share the costs of shipping a car to Europe. With shared container shipping, the trucker does a condition report when the vehicle is picked up, and CFR does one when the car is received. The process of loading the vehicle into the shipping container is also photographed and recorded, and the shipping container is then shut and sealed and not opened until delivered, with the exception of a customs inspection. The car does not have to run and drive, you can also store additional items inside the vehicle so long as you create a packing list.
FCL Container (Private): This exclusive container shipping service allows you to have a private container to fill at your own time, allowing for faster transit in getting your car to Europe versus needing to wait for others, like in a shared container. The container may be filled with autos and other cargo, so long as you create a packing list. The exclusive container shipping option for shipping a car to Europe is also the most expensive, as all shipping costs will pertain to you.
CFR is the premier international car shipping company in the USA using the industry-leading R-RAK vehicle loading system, and is doing so in partnership with Trans-Rak International, a UK company that designed the vehicle loading system and also holds the patents.
This system allows for the loading of up to five vehicles in one container, and is the safest vehicle shipping method available.
With other international car shipping companies, the traditional method of stacking cars for container shipping is to construct wooden ramps, and load the cars onto those ramps; this method of shipping vehicles is not only much more complicated and decreases safety, but is also an environmentally unfriendly way to go about shipping a car.
Europe Car Shipping Rates & Turnaround Times
Estimates Based on a Compact Car to/from Ports in the USA
| | | | | |
| --- | --- | --- | --- | --- |
| Country/Territory | Cost Estimate (Export to) | Export Turnaround Estimate | Cost Estimate (Import from) | Import Turnaround Estimate |
| Austria | $1,195 | 4 – 6 weeks | $1,595 | 4 – 6 weeks |
| Belgium | $749 | 14 – 28 days | $1,895 | 14 – 28 days |
| Czech Republic | $1,395 | 4 – 6 weeks | $2,195 | Contact for details |
| Denmark | $1,295 | 18 – 28 days | $2,750 | Contact for details |
| Finland | $1,225 | 14 – 28 days | $2,750 | 14 – 28 days |
| France | $750 | 4 – 8 weeks | $2,450 | 14 – 28 days |
| Germany | $749 | 4 – 6 weeks | $1,850 | 14 – 28 days |
| Ireland | $1,495 | 4 – 6 weeks | $1,895 | 4 – 6 weeks |
| Italy | $849 | 4 – 6 weeks | $1,850 | 4 – 6 weeks |
| Netherlands | $749 | 4 – 6 weeks | $1,850 | 14 – 28 days |
| Norway | $1,295 | 18 – 28 days | $2,750 | 18 – 28 days |
| Portugal | $1,595 | 4 – 8 weeks | $2,595 | Contact for details |
| Romania | $1,495 | 4 – 6 weeks | $2,595 | 4 – 6 weeks |
| Spain | $1,395 | 4 – 8 weeks | $2,250 | 14 – 28 days |
| Sweden | $1,295 | 21 days | $2,250 | 30 days |
| Switzerland | $1,195 | 4 – 6 weeks | $1,595 | 4 – 6 weeks |
| United Kingdom | $849 | 14 – 28 days | $1,850 | 30 days |
Checklist for Shipping Cars to Europe

You can use the below checklist to get an idea of what you can expect and need in order to ship a car to Europe. This may vary depending on which country you are shipping your vehicle to. 
Check out international car shipping guides for a per country breakdown of requirements, to learn the answers to questions like "How much does it cost to ship your car?" and other fees and duties you can expect to pay, and other information to ship a vehicle to Europe from the United States.
If you need additional information or quotes for international auto transport, we've prepared these convenient online international auto shipping guides with info specific to each country, including steps when shipping your car overseas, as well as customs and vehicle homologation info.
Ready to ship your car?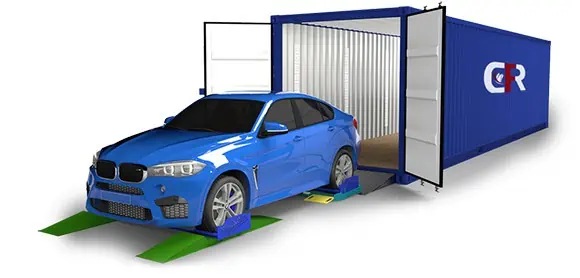 International Car Shipping Guides
Don't see the country you're looking for? We work with car shipping agents all over the world and can assist you with car shipping to Europe and all your international vehicle shipping needs. Request a quote to ship a car above, or give us a call at 1-888-886-6683.
FAQs for International Car Shipping Companies
Do you need a title for shipping cars to Europe or overseas?
Not the car owner yet? You will need to provide a copy of the original title and bill of sale in order to ship a car overseas to Europe or another country from the United States, so make sure that you have the ability to obtain them. Our Europe & international vehicle shipping agents are available to assist you with acquiring the necessary documents in order to allow you to get your own car shipped.
For a per-country breakdown of car export requirements, car shipping options, car shipping to Europe quotes and duty amounts, vehicle destination ports, and more, you can check out our Europe & international car shipping guides above.
Can I bring my car to Europe?
Each country has its own set of vehicle import regulations. Your vehicle must comply with legal and technical regulations in order to be imported into that country. Check out our international shipping guides for country-specific information.
How long does it take for an international car shipping company to ship a car to Europe?
Shipping a vehicle to Europe can take anywhere from 2-8 weeks depending on which European country you are shipping to and what shipping method you have chosen.
Can I drive my car as soon as it gets to Europe?
Vehicles must be registered to legally operate in the European country of destination. Certain countries will have their own set of regulations to ship cars – reach out to your shipping specialist for more information.
Should I get international car shipping insurance in case my car is damaged in transit to Europe?
We recommend obtaining international car shipping insurance for coverage in the unlikely event that a vehicle sustains damages during the vehicle shipping process. Speak to your representative for more information on adequate vehicle insurance to ship a car.
Can I put things in my car when it is shipped to Europe?
Yes! When shipping with a shared and/ or private shipping container, you can place items within your vehicle so long as you provide the auto transport company with a packing list. There are certain items such as alcohol, tobacco, firearms, explosives, perfumes, food, and livestock that cannot be shipped within your vehicle. If shipping RoRo, we recommend not placing any items within your vehicle due to different parties having access to your vehicle.
Online Quotes - Guaranteed Response within 24 Hours!
Quotes are available online for domestic and international vehicle shipping services. Depend on us for reliable and expedited vehicle relocation services - Our dedicated team of shipping specialists are always a phone call away to answer any questions you may have.