Top 10 Most Legendary Cars of the 1970s
The 1970s produced some of the most iconic rides before government regulations were implemented, and the cost of fuel and insurance skyrocketed. In a recent survey, we asked over 3,100 classic car enthusiasts what the most legendary cars of the 1970s were. Below are the results for the top 10, do you agree?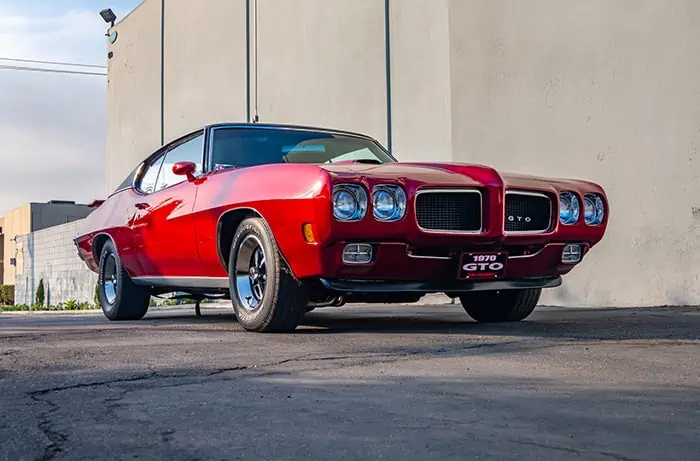 10. Pontiac GTO:
Arguably the first car to start the era of American muscle, the GTO has held onto its reputation as true American muscle to this day. While very popular in the late 1960s (with the highest sales numbers in 1966), the 1970 models had a 455HO V8 engine option not previously available. In 1969, "The Judge" trim option was introduced as competition against Plymouth's Roadrunner increased. Current average values for this classic are between $39,000- $100,000+ USD, only slightly higher than the MSRP cost of $3,492 in 1970.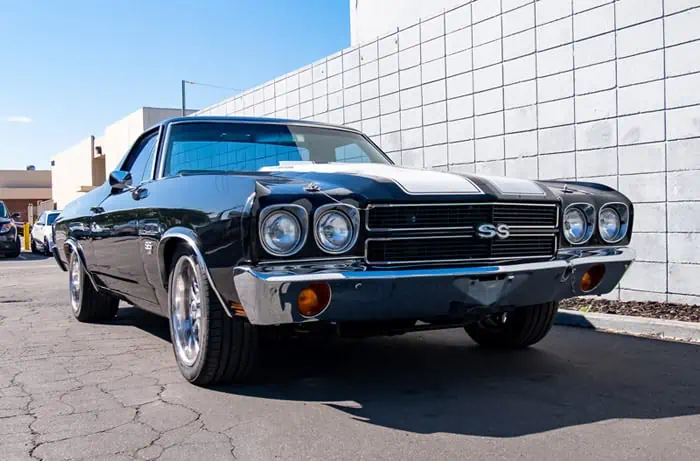 9. Chevrolet El Camino:
The El Camino entered the market in 1959 to compete with Ford's Ranchero until 1960 where Chevy stopped production due to low sales. Then in 1964, Chevy decided to reintroduce the El Camino, which was heavily inspired by the popular Chevelle and had great success. As a result, their 1970 models are considered one of the most coveted, with options including their 454 V8 engine, cranking out 450 horsepower and 500 ft-lbs of torque! The MSRP in 1970 for a base model was $2,769. However, the average current sale values are around $23,650 and up. Despite its rough start, Chevrolet's El Camino is now far more popular than the Ranchero and other utility coupes of that time, landing it a spot as one of the most legendary cars of the 1970s.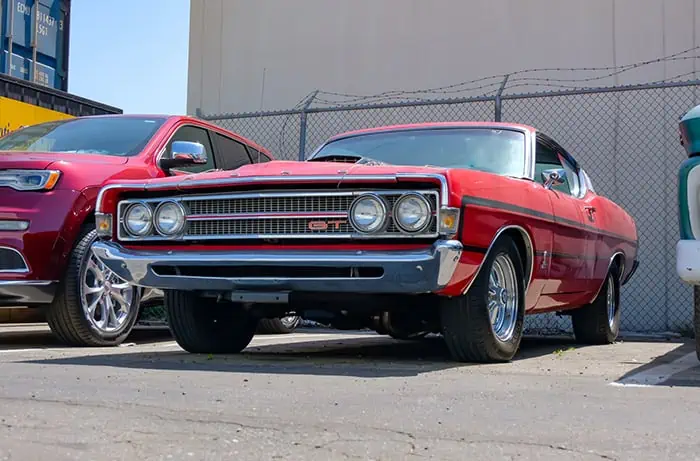 8. Ford Gran Torino:
Listed Car of the Year by Motor Trend in 1970, the Gran Torino had an impressive selection of models and trim available starting at $3,100. Current average values are between $24,000 – $38,000 for Gran Torino's in good condition. In 1972 automotive makers were required to use unleaded gasoline which resulted in smaller engines being produced. The 351 Cobra Jet engine offered the most power out of the Gran Torino lineup for this generation. Despite new regulations, the 1972 Gran Torino Sport did well and was offered in fastback and hardtop with better handling and great suspension to go with its sleek new styling.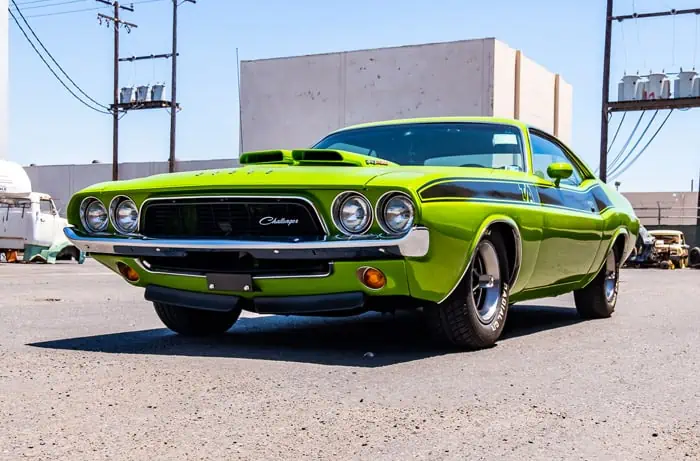 7. Dodge Challenger:
Introduced in 1969 with its 1970 model, the Challenger quickly became a popular car for those with a need for speed! Base models came with either an I6 or V8 engine offered at an MSRP of $3,200. Today, the average value is around $33,000 and up, depending on the model and condition. As was expected during this era of American Muscle, performance models came equipped with nothing less than a 426ci Hemi boasting 425 horsepower and 490 ft-lbs of torque. In 1971, the Challenger was the Indy 500 Pace Car and was actually the first pace car to crash in history.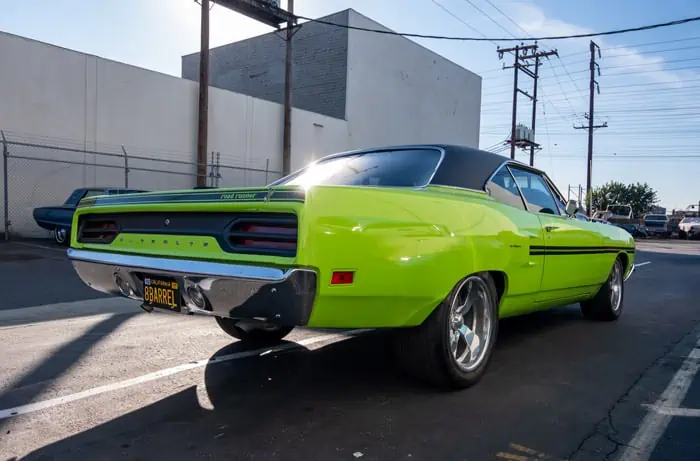 6. Plymouth Roadrunner:
This American muscle car is named after the Warner Bros Road Runner cartoon and even features the Road Runners' famous "beep-beep" for the car horn!  Originally around $3,000, this muscle car came with a 426 CID Hemi engine producing 425 horsepower! Considering that having 425 ponies under your hood is still impressive to this day, these are highly sought after by muscle car enthusiasts who can expect to pay anywhere between $75,000 – $100,000+.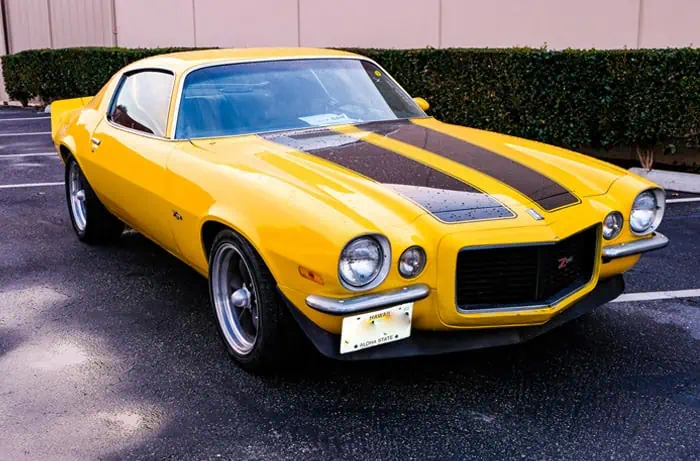 5. Chevrolet Camaro:
The Camaro hit the market in 1966 with its 1967 model as a competitor to the Ford Mustang. While the first generation is highly sought after, the second-generation Camaros are famous for their iconic split bumper. The 1970 Camaro lineup retailed between $2,700 – $3,200 and included their base coupe model, RS, SS, and the Z28. The performance Z28 came equipped with a 350 CID V8 engine and improved suspension, amongst other features. Six generations later, the Camaro remains one of Chevrolet's top-selling models of all time, with their classics currently worth $50,000 to over $130,000.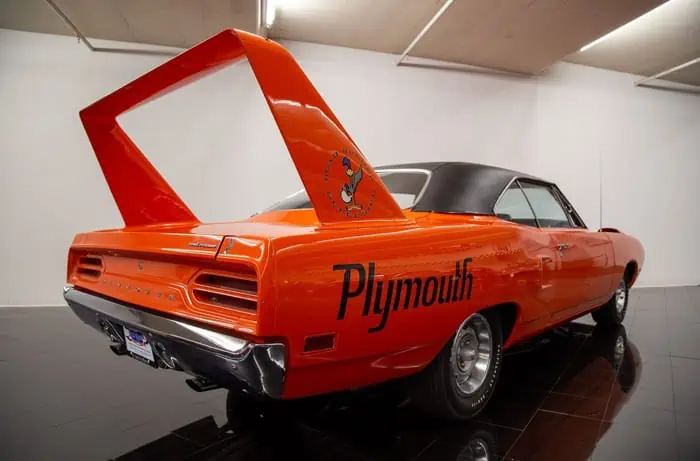 4. Plymouth Superbird:
The Plymouth Superbird was essentially a Plymouth Road Runner modified for NASCAR. This street-legal race car was only in production in 1970, so it's no wonder that these rare cars are currently worth between $100,000- $300,000! Originally sold for $4,300, Superbirds came equipped with a 426 Hemi V8 engine, boasting 425 horsepower and 490 torque to be a competitor to the Dodge Charger Daytona. An unexpected truth about these is that they were actually pretty unpopular with buyers of the time! The large wing was a turn-off to buyers who preferred other muscle cars of the time.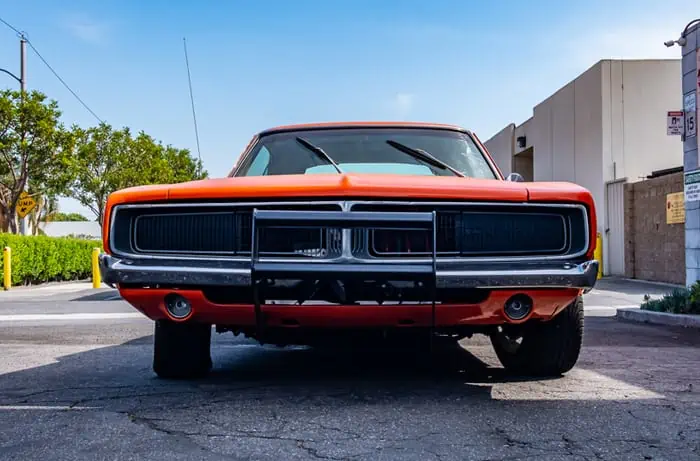 3. Dodge Charger R/T:
Second-generation Chargers have been featured in several films over the years, such as 'Dukes of Hazard' and 'Fast and Furious,' increasing their popularity over the years. The 1970 Charger had a base 500 and RT options available that originally sold between $3,000 – $3,700. Base models had a standard V6, which could be upgraded to either a 318 V8, 440 Magnum V8, or a 426 Hemi that boasted 425 hp! Those interested in owning this classic piece of American muscle can expect to pay between $25,000-$180,000 depending on restoration work, engine, etc.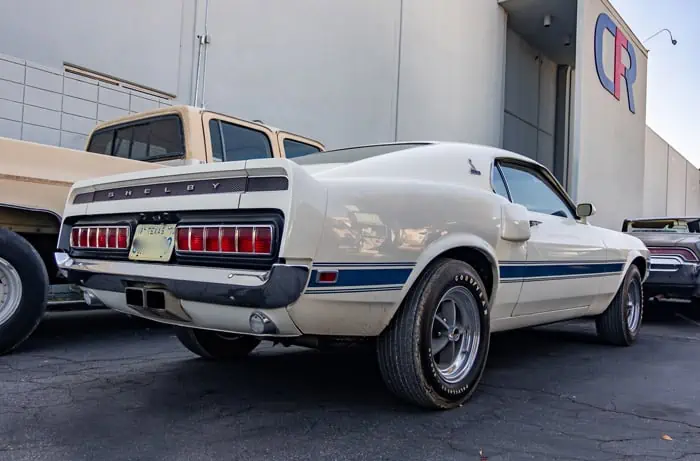 2. Shelby GT500 428 Cobra Jet:
The Ford Mustang hit the market in 1964 and has since been an iconic muscle car. With an excellent reputation established in the 1960s, new models were quick to grab consumers' attention. Unfortunately, the 1969-1970 Shelby GT-500 428 Cobra Jet models were among the last manufactured in partnership with Carrol Shelby. In 1970, these sold for about $5,000, a price we wish was still available considering the current sales range of over $100,000 on average!
1. Chevrolet Chevelle SS 454 LS6:
As competition during this era continued, Chevrolet decided to add more cubic inches under the hood to keep its reputation as a serious muscle car. Crowned "King of the Streets" due to being the fastest muscle car of 1970, Chevy's Chevelle left a lasting impression. The SS 454 LS6 model was originally listed for about $3,500 and packed 450 horsepower and 500 ft-lbs of torque! Today, a 1970 Chevelle can start at $57,000 to over $200,000, depending on the model and trim.
Are you interested in owning one of these legendary cars? Then, check out our dealerships page. There may be one waiting for you!