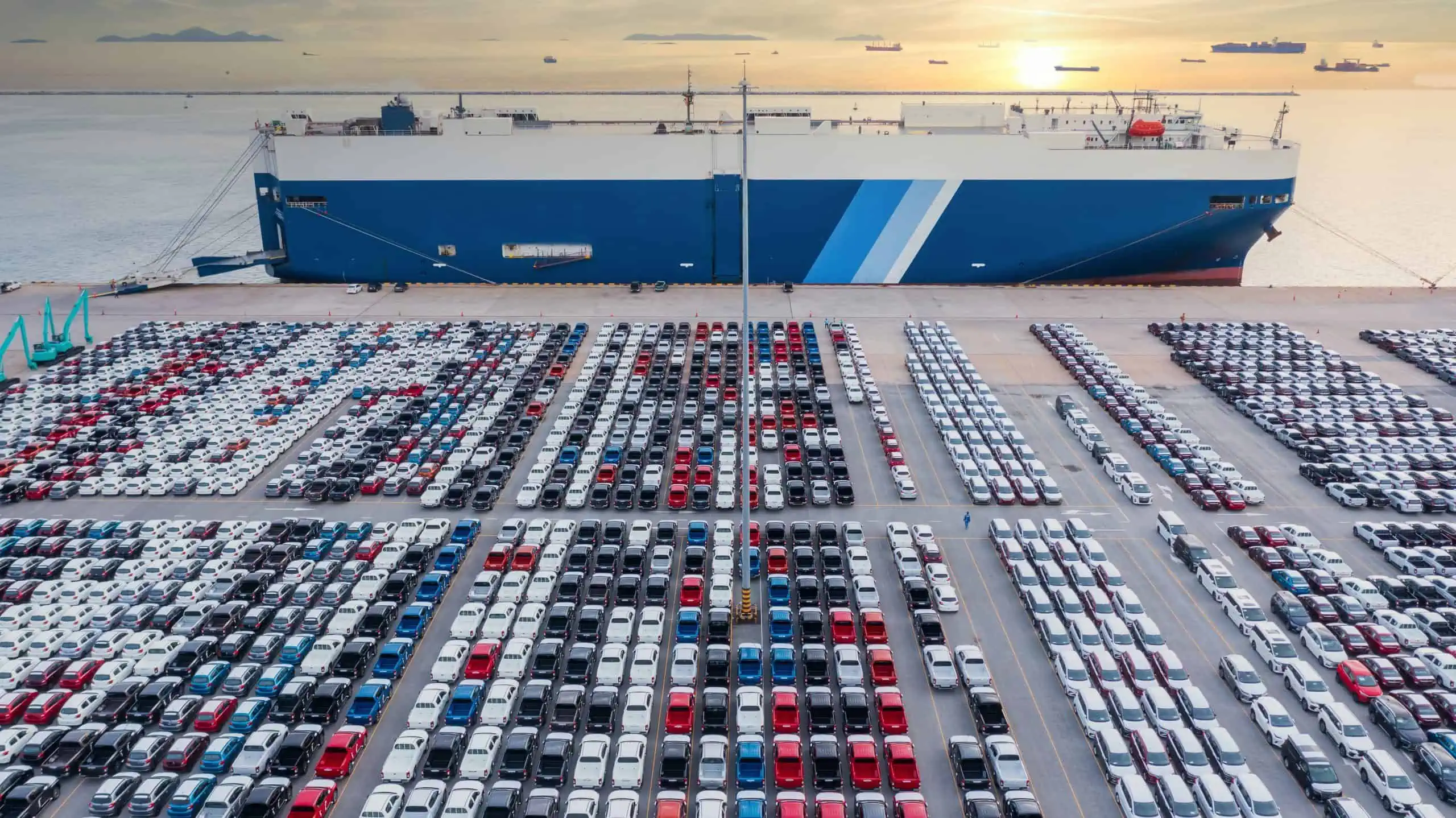 Shipping a Car Overseas: Military Car Shipping Guide
The Importance of Understanding Military Car Shipping
Understanding the ins and outs of military car shipping is crucial, especially for armed forces personnel who often face relocations. Whether it's a permanent change of station (PCS) or a temporary duty assignment, having detailed knowledge about how to ship your car can save time, money, and stress.
It is advantageous for military families to coordinate the transport of a vehicle to a new duty station, especially when more than one privately owned vehicle (POV) is involved.
Knowing how to navigate the shipping process, what costs (if any) can be covered at the government's expense, and how to select a reliable Armed Forces Vehicle Shipping Service can provide significant relief during a stressful military relocation.
How Does Military Car Shipping Work?
The military car shipping process can begin when you receive a PCS order to a new duty station. Once these orders are in hand, the next step usually involves contacting a Vehicle Processing Center (VPC) to schedule your privately owned shipment.
Military POV shipping is a specialized transport service facilitated by licensed military auto transport companies like CFR Classic. We are experienced in moving vehicles across the country or even overseas, in compliance with all United States laws and military regulations.
You'll need to turn in your car at a designated VPC, where it will be inspected for open recalls, the vehicle's size, and other factors. Your driver's license and VIN are also verified at this stage. Once everything checks out, your car is ready to be shipped to your new duty station.
In some circumstances, the military will allow you to ship one car overseas for free. Free shipping is not universal, so service members need to discover if this service is available to them.
Requirements for Shipping a Car to a Military Base
The rules for shipping to an army base are strict and designed to ensure the safety and compliance of the vehicle and the military personnel involved in the transport. Firstly, ensure that your car meets all the criteria set by the military for shipping, including restrictions on the vehicle's size and any additional items like children's car seats or snow tires.
Secondly, gather all the necessary documents. These will include your military ID, PCS orders, and proof of vehicle ownership. Some bases may require additional items such as first aid kits, tire chains, or jumper cables. Remove any personal items and household goods from the vehicle before it is turned in for shipping.
Lastly, it's essential to inquire about a military discount auto transport companies offer. While many service members might think that the whole process comes at no cost, there are circumstances where you may have to pay out of pocket. Being aware of a military discount can save you money in such scenarios.
Preparing for the Move
Get Your Orders (and Talk to Your Transportation Office)
The first crucial step in military vehicle shipping is obtaining your PCS orders. These orders contain essential information about your new duty station and serve as the official directive authorizing your move and subsequent entitlements.
The next significant move is to consult your Relocation Office. This is your go-to for clarifying uncertainties and ensuring you're well-prepared for vehicle shipping, and a valuable resource for service members and military families, offering guidance to ship your POV and outlining what the government will cover.
What We Need to Ship Your Vehicle
Specific documentation and preparations are necessary to facilitate the transport of your Automobile. Standard requirements often include:
Military ID
PCS orders
Proof of ownership or a lease agreement for the Automobile
Driving Licence
Military Vehicle Registration
VIN number
You may be asked to provide specific Transport information such as its size, whether it has open recalls and other particular characteristics. Ensuring you have all these documents and information will streamline the process.
Wash and Clean Out Your Military Vehicle Before Shipping
Keeping your car clean isn't just about aesthetics; it's a requirement for military shipping. A clean car is more accessible to inspect and eliminates the risk of sending prohibited items unknowingly. Remove all personal belongings and additional accessories like luggage racks and child seats. Failing to do this may cause long delays.

Type of POVs You May Ship
The military typically allows shipping one privately owned car per service member at the government's expense. However, there are some limitations on what car you can send.
For example:
Cars
Minivans
Motorcycles
Some types of RV
Consult with your transportation office to confirm what POVs are permissible.
Steps for Stress-Free Military Car Shipping
Relocating can be an arduous process, but specific steps can make shipping your car less stressful:
Plan Early: Start planning when you have your PCS orders.
Documentation: Gather all required paperwork, such as your PCS orders, and driver's permit.
Inspection: Have your vehicle inspected at the Vehicle Processing Center. Make sure to clean your car and remove all personal items before this.
Get Quotes: While the military often covers the cost, there may be instances where you'll need to pay.
Track Shipment: Many military auto transport companies offer tracking services so you can monitor your vehicle's journey.
Final Inspection: Upon arrival at the destination, inspect your vehicle for any possible damages incurred during shipping before accepting delivery.
Financial Aspects
What Affects the Cost of Military Car Shipping?
The type of vehicle being shipped will have an impact on cost. Larger cars, trucks, and SUVs may incur additional fees. The destination to which the vehicle is being sent, whether within the continental United States or overseas, can also alter costs.
Peak moving seasons may affect availability and, in some cases, the shipping cost. Extra services like vehicle storage or specialized transport can also add to the overall cost.
See if You Qualify for POV Entitlements
Entitlements vary depending on the service member's rank, the details within the PCS orders, and often the specific armed forces branch. Air Force personnel, for example, may have different entitlements than those in the Marine Corps.
Check with your Relocation Office to determine what entitlements you may qualify for. Some standard entitlements include the shipment of one car at the government's expense to the new duty station, storage options, and allowances for shipping additional vehicles under exceptional circumstances.
Choosing the Right Company
Find a Military Car Shipping Company
Selecting a reputable military auto transport company is a critical part of the vehicle shipping process. Seek recommendations from fellow military personnel recently going through the shipping process and research online reviews.
What Should I Look for in a Military Auto Shipping Company?
When evaluating potential military auto transport companies, several vital factors should guide your decision:
Experience: Look for companies with extensive experience shipping vehicles for military members.
Reviews: Customer feedback is a valuable indicator of a company's reliability and service quality.
Accreditations: Ensure the company has the necessary licenses and accreditations for domestic and international vehicle shipping.
Insurance: Verify that the company offers comprehensive insurance coverage for the duration of the process.
Tracking: A reputable company should provide tracking services so you can monitor your vehicle's location during transport.
Customer Service: Prompt and professional customer service is a must, as you'll likely have questions or need updates during shipping.
Special Cases and Additional Information
How to Ship a 2nd Military POV Overseas
Shipping a second Privately Owned Vehicle (POV) overseas can be a bit more complicated than sending the first. Contact your transportation office to understand the requirements and paperwork to ship a second vehicle.
Due to customs laws and regulations, you'll need a company well-versed in transferring to specific countries. Check if you qualify for military discounts or entitlements that might partially offset the cost of shipping a second vehicle.
Additional Considerations for OCONUS to CONUS POV Shipments
Several unique considerations come into play when relocating a vehicle from OCONUS to CONUS. Firstly, ensure your vehicle complies with all U.S. emissions and safety standards. Failing to meet these standards can result in hefty fines or, in worst-case scenarios, your car being held at the port.
The timeline for relocating a vehicle from OCONUS to CONUS can also be longer due to customs inspections and the greater distance the car will travel.
Moves Within the Contiguous U.S.
For military personnel relocating within the Continental United States, the process is often more straightforward than international or OCONUS moves. Remember that while moves within CONUS are generally less complicated, they still require meticulous planning.
Before shipping your vehicle, ensure it is in optimal condition. Perform basic maintenance tasks, check tire pressure and fluid levels. Remove personal items and important documents from the car, as shipping insurance won't cover these.
OCONUS Locations
Common OCONUS locations for military personnel include countries in Europe, Asia, and other U.S. territories like Guam and Puerto Rico. There are customs regulations and additional documentation to consider, and a more significant logistical challenge is involved.
You may also encounter limitations on the types of vehicles that can be imported to certain countries or U.S. territories. Start the process as early as possible to avoid any delays or issues.
Pickup and Final Steps
When Picking Up Your Vehicle, Please Ensure You Have All of the Following Documents With You
Retrieving your vehicle from the Vehicle Processing Center or the designated delivery location requires careful preparation.
You must present the following documents for verification:
#1: Military ID: As a service member, your Military Identification Card proves your affiliation with the Armed Forces.
#2: Driver's License: Ensure your driver's permit is valid and not expired, as this is necessary for operating the vehicle immediately upon pickup.
#3: Shipping Orders: These are your official orders for the PCS or other assignments requiring vehicle shipment.
#4: Registration: Always carry the most recent registration documents for the shipped vehicle.
#5: Power of Attorney: A notarized Power of Attorney is necessary if someone other than the service member or spouse is picking up the vehicle.
#6: Inspection Report: This report records your vehicle's condition when you drop off your car for carriage. It will be cross-referenced upon delivery to ensure no damage occurred during transportation.
#7: Proof of Insurance: An up-to-date insurance card or policy document prepares you for potential incidents post-pickup.
#8: Bill of Lading: This is a document issued by the carrier detailing the type, quantity, and destination of the goods being carried. It serves as a receipt for the services provided.
#9: Payment Receipt: If you must pay any fees for additional services or because you're sending a second POV, carry proof of payment.
#10: Customs Forms: For OCONUS to CONUS shipments, customs paperwork may be required to release your shipment.
#11: Any Special Permits: Certain vehicles, like RVs or motorcycles, might need special permits for operation. Make sure to have these on hand if applicable.
Failing to produce any of these documents could result in delays or additional fees, complicating a stressful time for many military personnel and their families.
Ready to Ship Your Military Vehicle Overseas? Choose CFR Classic.
Shipping a car overseas, especially for military members, can be a complex and daunting task. That's why you need a reliable car shipping partner to make the shipment process as smooth as possible. CFR Classic has years of experience in international car shipping, including specialized services for military personnel.
Don't leave your vehicle shipping to chance. Trust the experts at CFR Classic to deliver your car safely and efficiently. Contact us today to find out more and get a free quote.