Permanent Change of Station and Temporary Duty Moving - We'll make shipping your vehicle easy.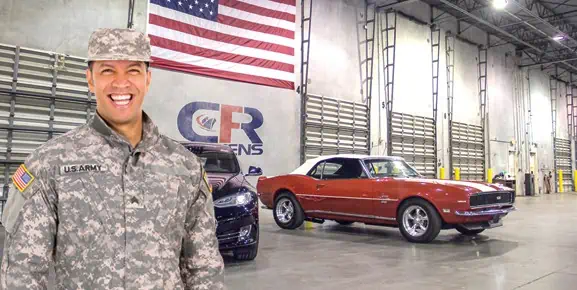 Serving in the military is an honor and serving can also include moving and relocation.
A  Permanent Change of Station (PCS) or Temporary Duty (TDY) move can seem like a daunting task, but CFR Classic can assist in shipping your vehicle domestically or internationally, and making the process as easy as possible. We're always just a call or email away.
CFR Classic is proud to service the US military and its families with the industry's best services in military car shipping.
We can help relocate all your vehicles in a fast, easy and secure manner, providing military families with competitive rates and help throughout the entire vehicle shipping process.
CFR prides itself in having its own domestic trucking department that can pick up your vehicles from anywhere in the United States, usually within just a few days. Shipping a car from your location is easy; all we need is the addresses and contact information – and our team gets right on the job. We provide reliable nationwide coast to coast transportation, and specialize in international vehicle shipping. Depend on us for reliable and expedited vehicle relocation services for military personnel.
Our dedicated team of shipping specialists are always a phone call away to answer any questions you may have.
Call Us Today: 310.862.0222
PCS and TDY Car Shipping - We Can Pick Up Your Vehicle From Anywhere In The United States
Using CFR's revolutionary racking system in 53′ intermodal containers, we provide a fully enclosed coast-to-coast alternative to the current over-the-road trucking model. Trust your vehicle to be shipped the same way car manufacturers depend on to move their new cars across the country.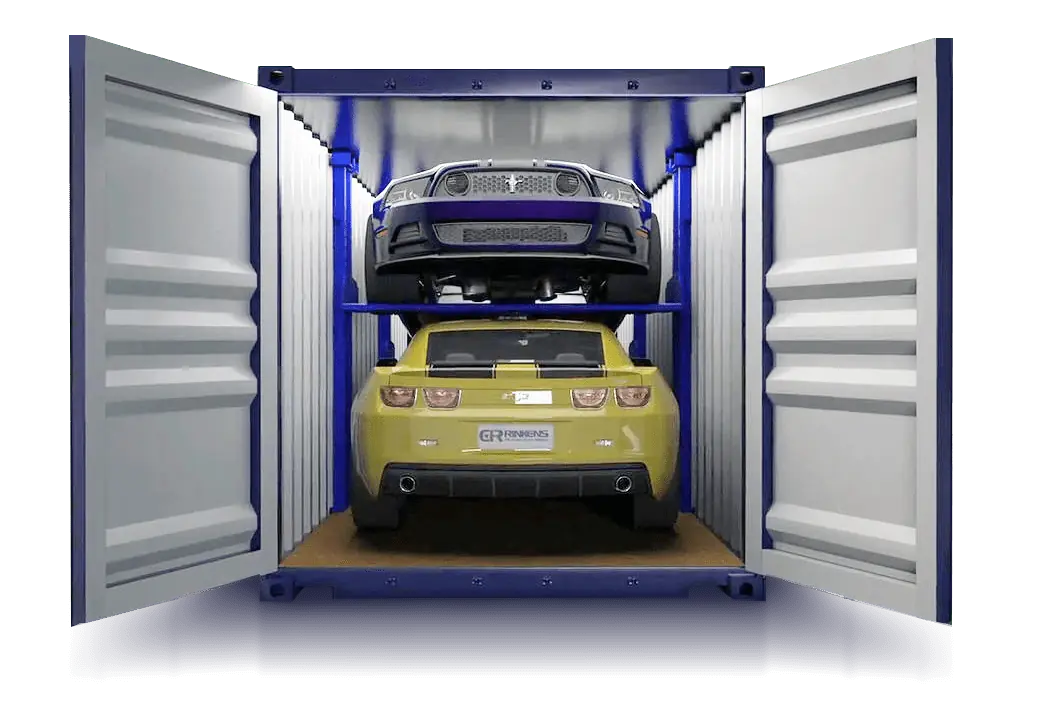 Reliable Door-to-Door Car Shipping Services Available

Guaranteed condition report with photo documentation

Proven transit times without exposure to harsh elements

No brokering! We fully control our trucks and trailers
International PCS & TDY Military Car Shipping can be performed using a Shared Container, a Sole Container or Ro/Ro: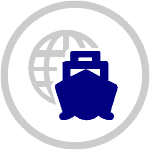 Roll-On/Roll-Off – This option tends to be one of the more affordable ones as you only must pay port charges and customs clearance charges in addition to the shipping charge. Your vehicle will be loaded into the holding area of a large vessel, one which resembles a big parking garage. This method is suitable for shipping and handling bulkier vehicles like work trucks.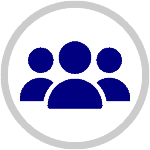 Shared Container – Several vehicles are shipped using a single container. More fees are involved than with the roll-on/roll-off method, however they are shared between several clients, and you have the added protection of a fully enclosed container. Fees include customs clearance, trucking charge, terminal handling charge and a charge for unloading the vehicles at a bonded warehouse.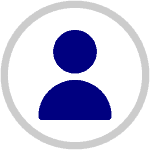 Dedicated Container – Same as the shared container load, except that one single vehicle occupies the entire container and the fees, which are like those for shared containers, are borne by you alone. The vehicle is kept secure, so clients may transport other items inside the vehicle, although they are advised to pack with care as we are not liable for any loss or damage sustained.
Over 20+ Years' Experience Moving Military Personnel Around the World
See why military members rely on CFR for military car shipping services. CFR Classic is one of the most renowned international car shipping companies in the United States, offering Military PCS and TDY vehicle relocation services and personal vehicle shipping from anywhere in the country.
This specialized shipping of automobiles, boats, and other vehicles should not be left to brokers or seemingly inexpensive but obscure local shippers. As front-runners in military PCS vehicle shipping, our goal is to provide reliable military car shipping services.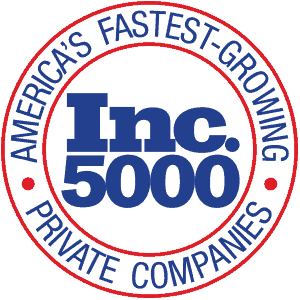 Reliable PCS and TDY Military Car Shipping Services
Our expert shipping agents are ready to assist you every step of the way of shipping a vehicle due to permanent change of station or temporary duty relocation.

In 2011, CFR introduced a revolutionary new method for stacking cars in containers which makes it possible to load three, four, or even five cars safely into an ocean container. The traditional method of stacking cars in containers is to construct wooden ramps and load the cars onto those ramps, which is not only much more complicated and less safe, but also environmentally unfriendly.
With our industry-leading R-Rak system, we've made loading vehicles into shipping containers safer and easier.
As leaders in military PCS vehicle shipping, CFR provides military personnel the same car shipping and transportation services we offer auto manufactures and car dealerships.
We offer top rated and secure military car shipping services, as well as exceptional customer service. Our shipping agents are always just a phone call away!
Ready to get started shipping a vehicle? Request a free online quote today.
International Vehicle Shipping Guides
If you need additional information for vehicle shipping overseas, we've prepared these convenient online vehicle shipping guides with info specific to each country, including steps when shipping your vehicle overseas, as well as customs and vehicle homologation info.
Ready to get started shipping a vehicle? Request a free online estimate today.