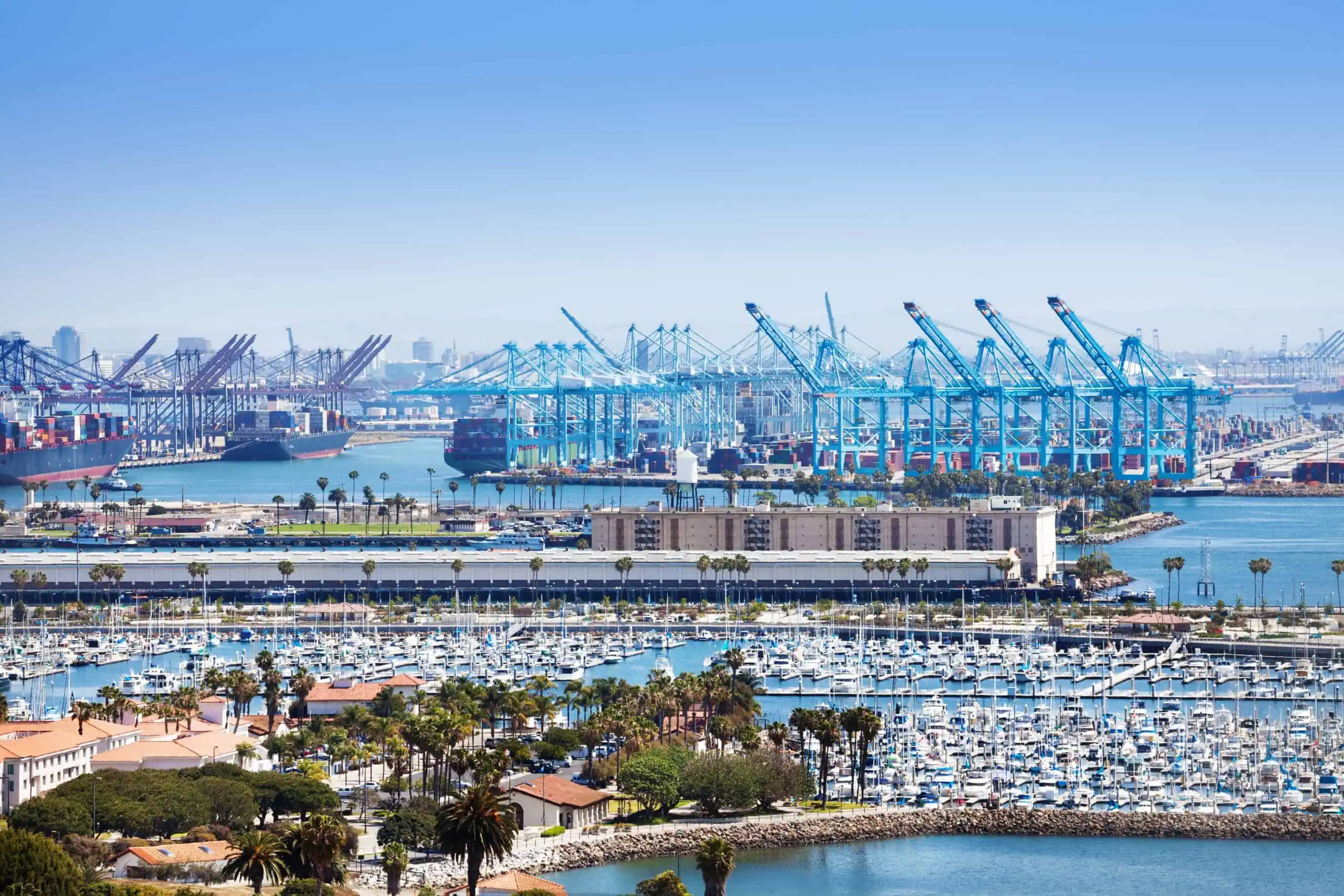 Car Shipping Ports in USA
What Are the Major Car Shipping Ports in the USA?
When it comes to shipping your car overseas, it is important to know where all the major shipping ports are. Your choice of shipping port will not only dictate your shipping costs but also impact shipping requirements and delivery time. Join us as we discover the major shipping ports in the USA and learn how to choose the best one for your car shipping needs.
What Are the 9 Largest Car Shipping Ports in the USA?
When it comes to shipping a car in the United States, the country's extensive coastline and inland waterways play a significant role in the transportation of vehicles. Several major ports serve as vital hubs for car shipping to a foreign country, handling an impressive volume of vehicles each year.
Let's explore some of the largest international car shipping ports in the USA:
#1: Port of Los Angeles:
As the largest and busiest port in the United States, the Port of LA, located on the West Coast at San Pedro Bay, Southern California, is a crucial gateway for car imports and exports. With its extensive facilities and strategic location, it handles a substantial share of the nation's vehicle shipments. The Los Angeles Port is a great option for shipping cars to East Asian Countries, South America, and Europe.
#2: Port of Long Beach:
Adjacent to the West Coast Port of Los Angeles, the Port of Long Beach is another major player in the car shipping industry and one of the busiest ports. Together with its neighboring port, it forms one of the busiest shipping complexes in the country, accommodating countless vehicles annually. The Long Beach Port is another great option for shipping cars to East Asian Countries, South America, and Europe.
#3: Port of New York and New Jersey (Newark Port):
On the East Coast, another of the busiest ports is the Port of New York and New Jersey, which stands out as a prominent car shipping hub. Due to the New York and New Jersey (Newark Port) central location on the Atlantic coast makes it a key entry point for vehicles imported to the eastern United States from other countries.

#4: Port of Seattle-Tacoma:
The Port of Seattle and the Port of Tacoma, collectively known as The Northwest Seaport Alliance, are vital car shipping hubs, primarily for vehicles destined for the West Coast and northwestern United States. Their prime location and advanced facilities make them key entry points and major ports for automobiles in the Pacific Northwest, ensuring efficient transit for vehicles in the region.
#5: Port of Houston:
Another significant Gulf Coast port, the Port of Houston, Texas, handles a substantial volume of car imports and exports. Houston port transportation infrastructure is well-suited for the automotive industry. Its location makes it well-suited for shipping cars to Central and South America.
#6: Port of Savannah:
Located in Georgia, the Savannah Port is a crucial hub for car shipping, particularly for vehicles destined for the southeastern United States. With its deepwater port facilities, ocean terminal, and efficient infrastructure, the Savannah Port ensures the smooth transit of automobiles and is an essential gateway for car imports and exports. As the fourth busiest port in the United States, Savannah boasts the biggest container terminal in the Western Hemisphere
#7: Port of Virginia:
The Port of Virginia, located in the southeastern part of the United States, is a critical car shipping gateway for vehicles heading to the Mid-Atlantic region. With its well-developed infrastructure, the Port of Virginia efficiently handles car imports and exports, contributing to the transportation of automobiles in the area.
#8: Port of Charleston:
Located in South Carolina, the Port of Charleston serves as a pivotal car shipping hub, particularly for vehicles destined for the southeastern and eastern United States. Its state-of-the-art facilities and advantageous location make it a key entry point for automobiles, contributing to the smooth transit of vehicles in the region.
#9: Port of Miami:
Situated in Florida, the Port of Miami is a significant car shipping port, particularly for vehicles destined for the southeastern United States. Its strategic location in the Sunshine State and modern facilities make it an essential entry point for car imports and exports, contributing to the smooth transit of automobiles in the region. It is also positioned near to both North and South America, benefitting from access to the widened Panama Canal, this means that it is the only port in the USA that can handle both cruise and cargo vessels.
What Should You Consider When Choosing a Car Shipping Port in the United States?
When choosing a container port, you will need to consider the following factors:
Cost
For most people, cost is a crucial factor when deciding on a suitable port for shipping your car overseas. You should consider the expenses associated with different ports, including handling fees, customs charges, and transportation costs. But remember, the cheapest option is not always the best, make sure that you are getting value for your money too!
Port Location
You should consider the geographical location of each shipping company and port. Choosing a port that is located nearer to you can help to cut costs. Don't forget to research the location of your destination port too, in order to minimize transportation costs when you reach your destination country. As well as minimizing your costs, choosing a nearby port can also reduce transit times, allowing you to ship your car more quickly.
The Port's Equipment and Infrastructure
Evaluate the infrastructure and services offered by each port. This should include factors such as warehousing facilities, security measures, and the efficiency of cargo handling. A well-equipped port can streamline your logistics and minimize delays.
In the modern age, technology also plays a vital role in international car shipping. Carry out some research to find out more about the types of technology that are implemented at each port, such as state-of-the-art tracking systems, digital cargo management, and automated loading and unloading processes. These technologies can enhance efficiency, provide real-time tracking, and ensure the secure handling of your shipments.
Port Accessibility
Assess the accessibility of the port by road, rail, or waterways. Easy connectivity can simplify the transportation process and reduce additional costs.
Size of the Port
The size of a port, both in terms of physical space and capacity, is an important factor to consider when selecting the ideal location for shipping a car.
Larger ports offer more carriers and vessels, which in turn translates to more direct services and cargo ships. Assess the port's capacity, which includes the maximum volume of cargo it can handle efficiently. The size of the port should align with the volume of cargo you intend to transport.
Seasonal Climate Variations
Different regions experience varying weather patterns throughout the year. Adverse weather, such as storms or extreme cold, can affect the safety and timeliness of your shipments. Ensure that the port you select is well-equipped to handle weather-related challenges, or plan your shipments to align with more favorable seasons.
How Should You Prepare Your Vehicle for Shipping?
Preparing your vehicle for shipping is a crucial step to ensuring a safe and hassle-free process.
Here's a brief summary of the key steps you should take:
#1: Research Customs Regulations
Before shipping a car, you should take some time to fully understand the customs clearance rules and regulations of your destination country. Contact the country's embassy or consulate for detailed information. If you partner with an experienced and reliable shipping company, they can help you with this process.
#2: Inspect for Damage
Before you ship your car, you should conduct a thorough inspection of your vehicle for any existing damage and document it. This will help in case of any disputes during the shipping process.
#3: Check Fuel Level
Ensure the fuel tank of your vehicle is no more than 1/4 full. Most shipping companies prefer a lower fuel level to minimize the risk of leaks.
#4: Remove Personal Items
Empty the car of all personal items, except for necessary safety equipment like a spare tire or jack. Personal and valuable items that are left behind in the car will not be covered by your car shipping insurance.
#5: Gather Documentation
Prepare the required paperwork, including ID and passport, the original invoice, bill of lading, vehicle VIN and chassis numbers, title of ownership, registration certificate, and any necessary employee certificates.
By following these steps you can ensure that you have a smooth and trouble-free international car shipping experience.
How Long Does it Take to Ship a Car Internationally?
In general, international auto transport can take anywhere from a few weeks to a couple of months. If work closely with a reliable shipping company, they can provide you with more precise estimates based on your specific route and requirements.
There are, however, a number of factors that can influence the transit time for international car shipping and these include:
Chosen Shipping Methods
Roll-on/Roll-off shipping is often the quickest method of auto transport, taking approximately 1-3 weeks, depending on the destination you ship your vehicle. While container shipping may require 3 to 6 weeks, the trade-off is increased security for your vehicle.
Distance and Route
The geographical distance between the origin and destination country also has a significant effect. Of course, longer distances naturally take more time. Additionally, shipping within the same continent is generally quicker than intercontinental shipments. Don't forget to factor in the time it takes to transport the car to and from the ports. This can add several days to the overall timeline.
Customs and Documentation
Customs clearance can be a time-consuming process, both at the point of origin and the destination. This can add anywhere from a few days to a couple of weeks to the shipping time.
Seasonal Factors
During peak seasons, whole container ports may be congested, leading to delays and a slower shipping rate and container volume. Additionally, weather conditions like storms can also impact shipping times.
Unforeseen Delays
Factors such as strikes, mechanical issues, or geopolitical tensions can impact your departure date and contribute to international car shipping delays that are hard to predict.
Container Shipping vs. RoRo: Choosing Your Car Shipping Method
When it comes to shipping your vehicle overseas, you have two main shipping options: container shipping or roll-on/roll-off (RoRo) shipping. Each method has its own advantages and disadvantages, so it's important to choose the right shipping method for your needs.
Container Shipping
Container shipping is the most common way to ship a car. Your vehicle is loaded directly onto a shipping container, which is then transported onto the ship. The shipping container is sealed, protecting your car from the elements and guarding it against any potential damage. Container ships are a great option to ship your vehicle over long distances, as it is relatively inexpensive and secure to ship vehicles.
RoRo Shipping
Roll-on/Roll/off or RoRo shipping is less common than container shipping, but it can be a good shipping option for shorter distances. With this shipping method, your car is driven directly onto the ship, where it is secured in place. A RoRo service is typically more affordable than container shipping when transporting a vehicle over a shorter distance, and it is also faster. The downside is that your car is not protected and is exposed to the elements.
So, which method is right for you? Well, that really depends on your individual needs. If you prioritize the safety and security of your vehicle or need to ship personal items, then container shipping might be the better option. On the other hand, if you seek a more economical and straightforward approach, RoRo is a viable choice. Remember that your decision should align with your specific needs and budget.

CFR Classic: Partnering with a Trusted Car Shipping Company
Ready to ship your car internationally with peace of mind? Choose CFR Classic, your trusted partner in auto shipping.
Our extensive network, featuring locations at most major ports across the United States, ensures that you're never far from a CFR Classic facility. This strategic positioning not only makes the shipping process more convenient but also expedites the entire operation.
Contact CFR Classic Today
Ready to make your international car shipping experience as smooth as possible? Contact CFR Classic today and benefit from our unparalleled service and strategic locations.