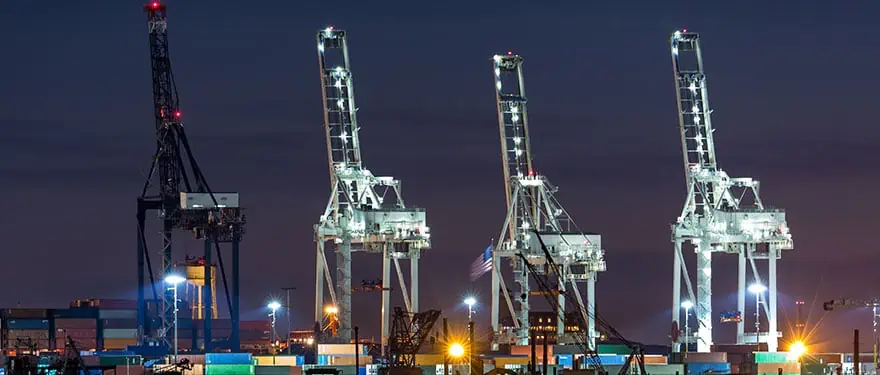 New Cargo Volume Record for Port of New York/New Jersey
In a recent press release, the Port Authority of New York & New Jersey announced the breaking of their 2014 record for annual cargo volumes by over 10% – Also increasing the number of jobs and economic activity generated by the port for the bi-state area. Presently, 336,600 full-time jobs are generated by the port in the region, with nearly $53.3 billion generated in business income, and $21.2 billion in personal income.
During the year, the port handled 6,371,720 20-foot equivalent units (TEUs) (or 3,664,013 cargo containers), an increase of 10.4 percent over 2014 when the previous annual record was established. The record volumes allowed the port to maintain its position as the busiest on the East Coast with nearly 30 percent of the total market share.
The announcement also highlighted the Port Authority's ExpressRail, a ship-to-rail system for marine terminals in New York and New Jersey, which also set another record, handling 522,244 containers – an increase of 12.2% percent over the record established in 2014. Over $600 million has been invested in this infrastructure, addressing the need to improve port efficiency and reduce emissions. Although cargo volumes have increased, the Port of New York/New Jersey has seen a reduction in port emissions of over 33% since 2006, thanks to a number of environmental initiatives.
"Moving forward, we will continue to work in partnership with all port stakeholders so we can efficiently and effectively handle greater volumes of cargo in the years to come." -Pat Foye, Port Authority Executive Director
With nearly 30 percent of the market share, the Port of New York/New Jersey is considered the busiest in the East Coast, and is poised to become a leading maritime gateway in the US. Our New York/New Jersey offices are conveniently located in Kearny, New Jersey and are ready to assist in all your shipping needs. From international relocation, to industry-leading car shipping service, our experienced shipping agents are always just a phone call away.