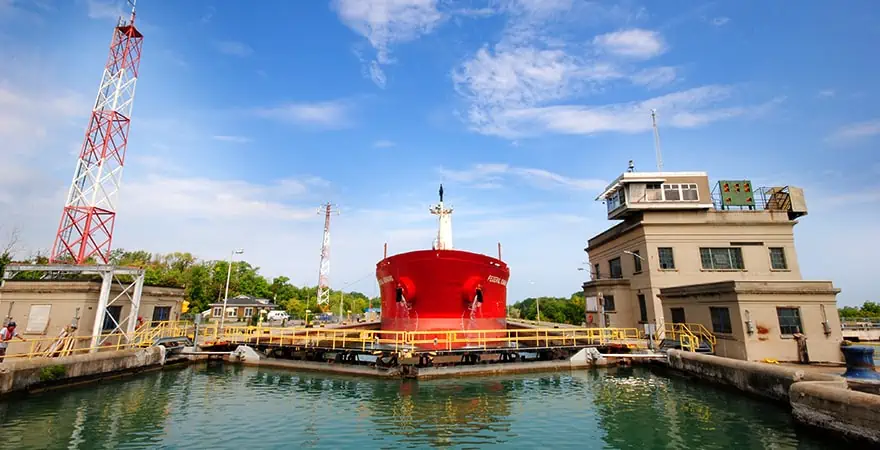 Panama Canal ousts Suez as top Asia-US East Coast route
In the few weeks since inaugurating its enlarged locks, designed to receive larger vessels, the Panama Canal has overthrown the Suez Canal as the top route for container shipping services between the United States' East Coast and the Far East. The Journal of Commerce reports:
The new, larger locks of the Panama Canal, pictured, have allowed the canal to reclaim market share from the Suez Canal that it had lost as container lines increasingly deployed mega-ships in recent years.
The Central American waterway has a 57 percent share of total volume on the trade compared with 48 percent at the beginning of the year, and is set to boost its share further in the coming months as some carriers have yet to introduce larger vessels, according to Alphaliner.
The overall all-water weekly capacity currently stands at 145,000 twenty-foot-equivalent units, up 1.7 percent from a year ago, the industry analyst said.
It is unclear what has driven this shift since the transit time for a direct voyage from Hong Kong to New York is the same through both the Suez and Panama, although actual times depend on port coverage and intermediate stops. Panama has an advantage for origin points north of Hong Kong.
The Egyptian waterway grabbed a substantial market share over the past few years as economies of scale and vessel "cascading" led carriers to deploy 5,500- to 10,000-TEU ships rather than continuing with the classic Panamax vessels of 4,000 TEUs to 5,000 TEUs on the Panama route.
"Now that the old Panama locks' restrictions have been lifted, the canal is making a strong comeback, regaining much of the all-water market share that was lost to the Suez Canal," Alphaliner said.
Although the number of all-water services via Panama has fallen to 13 strings from 16 a year ago, the average size of vessels on the route has increased from 4,600 TEUs to 6,400 TEUs.
Source: JOC.