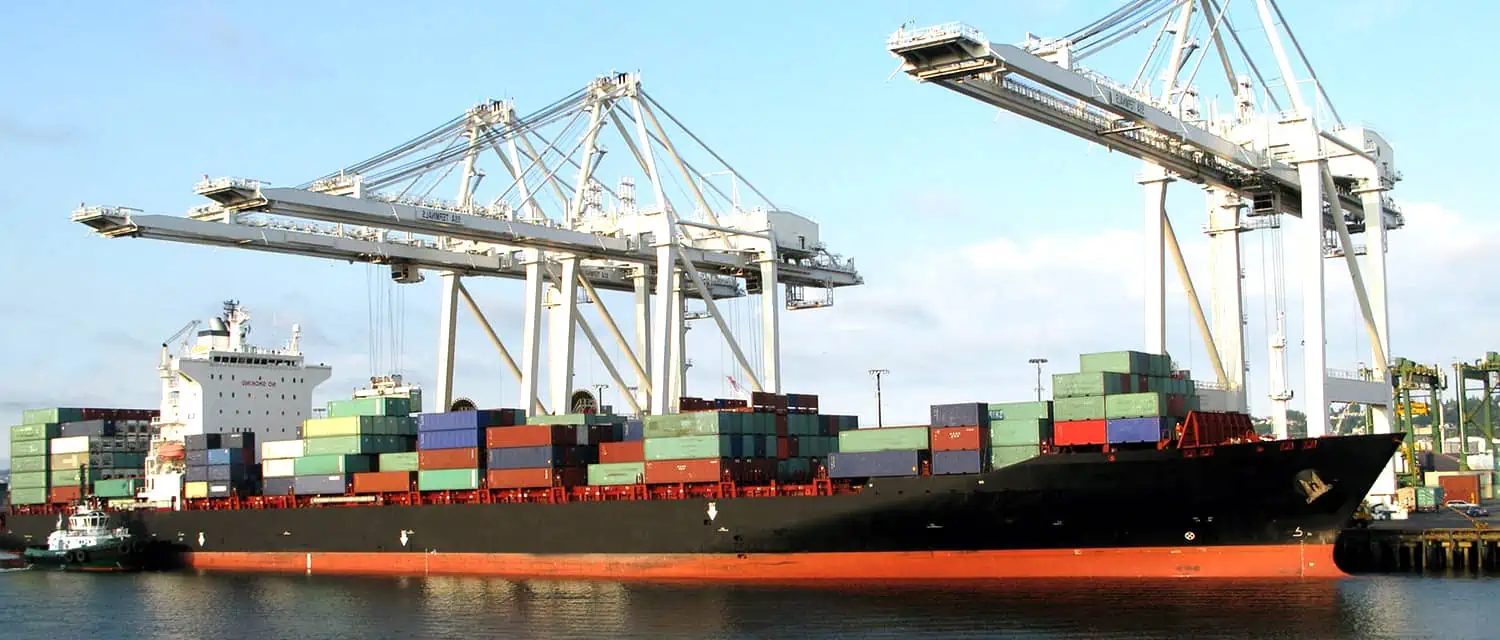 LA-LB container ship backups worst in two years
Eleven container ships were anchored off the ports of Los Angeles and Long Beach on Sunday, the most waiting at one time in San Pedro Bay in two years, as gridlock persisted at the largest container gateway in the Americas.
The queue dipped to nine on Monday, down from 10 on Saturday and 11 on Sunday but up from seven on Friday, according to the Marine Exchange of Southern California. Last week, the high was on Tuesday, Oct. 21, with eight ships at anchor.
Waiting for berths on Monday were the Tokyo Express and Kobe Express, operated by Hapag-Lloyd; the NYK Maria, NYK Argus and NYK Diana, operated by NYK Line; the Cap Portland and Cap Cleveland, operated by Hamburg Süd; the CMA CGM Rigoletto, operated by CMA CGM; and APL Egypt, operated by APL.
The executive director of the Marine Exchange of Southern California, retired Coast Guard Capt. J. Kipling "Kip" Louttit, told JOC.com today that he agrees with those saying the current gridlock at the ports of Los Angeles and Long Beach is on par with the most severe disruption the ports have seen in recent memory. Officials from the Port of Long Beach downplayed that assessment last week, saying that while the current congestion is serious, it is no where near as bad as past episodes.
The last time congestion at the Southern california ports was this severe was when striking office clerical workers crippled the ports in the fall of 2012, Louttit said. The clerk's strike led to a peak of 30 container ships sitting at anchor at one point, he said.
While the 11 container ships backed up on Sunday is not as high as that, Louttit said the current congestion is the worst since then and significant because it is "very unusual" to have any backups at all. "There's usually zero wait times with container ships," he told JOC.com last week.
Congestion at the Southern California ports was also significant in 2004, when Union Pacific Railroad was not adequately staffed to handle the peak season that year, resulting in 65 ships at anchor or steaming offshore, plus 127 ships that diverted to other ports, Louttit said. Other severe episodes occurred in 2002, when the Pacific Maritime Association locked out International Longshore and Warehouse Union dockworkers for 10 days, causing about 30 ships to be anchored at one time with 14 diverted to other ports; and following the 9/11 attacks in 2001, when there were about 25 to 30 ships at anchor, he said.
"For some reason, the lines have sent lots and lots of ships to LA-Long Beach in October," Louttit said.
The Marine Exchange normally records an average of 365 container ship arrivals each month, but they've already counted 391 container ships so far in October and the month won't end until Friday. October is already the record month for 2014, surpassing the previous monthly high of 390 ships in May.
Container ship volume at the LA-Long Beach port complex in September was relatively high, contributing to terminal congestion and showing that there's still life to the 2014 ocean peak season. Other reasons for the current gridlock include the increasing sizes of ships in the trans-Pacific trade lane, which require longer times as berth, as well as a shortage of chassis and drayage drivers, and, more recently, slowdowns by members of the International Longshore and Warehouse Union at certain terminals. The multi-faceted nature of the current congestion – versus earlier bouts that could be pinned on a single reason – has many worried that a full recovery will take longer. The stubborn nature of the current congestion has lead to several suggestions of alternative ports including Prince Rupert, Oakland and Lazaro Cardenes.
Last year, the peak month for ship traffic was in August, with 405 container ships, although backups were not reported at that time, according to the Marine Exchange. In 2010 and 2011, the peak month was also in August, and in 2012, it was in July.