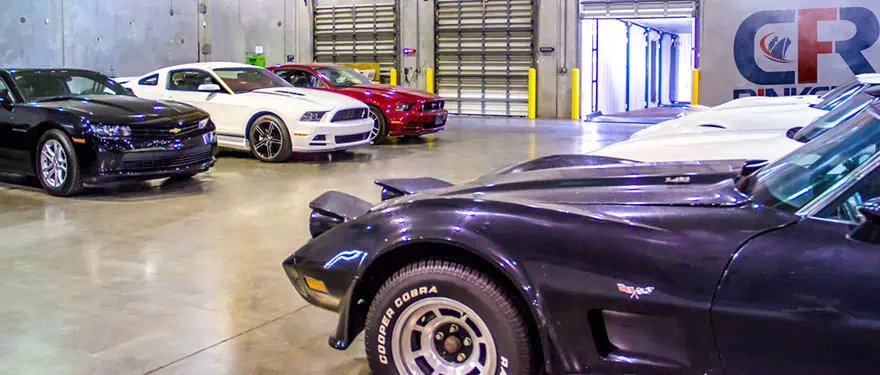 Car Imports: Your Guide to the 25-Year Rule
Are you looking to legally import your car into America? Whether you are relocating to the US with your own vehicle or a US citizen hunting down your dream car across the ocean, the 25-year import rule is a key motor vehicle regulation you will need to know about. If you happen to violate this law, your beloved vehicle might end up heading to the scrapyard!
This handy guide will help you understand the 25-year import rule, what it means, why it matters, and how to ensure you comply.
What Is the USA 25-Year Import Rule?
Simply put, the USA's "25-Year Import Rule" regulates the importation of foreign vehicles into the United States. It stipulates that a vehicle must be at least 25 years old before it becomes eligible for import and deemed street-legal for use on American roads. And so, cars built under 25 years old can not legally be brought into the US.
The real aim of this rule is to ensure that imported vehicles possess historical significance and are distinct from newer vehicle models available in the market. This helps to keep a balance between older, foreign-market vehicles and newer cars on American roads.
The "Gray Market Car" and the Origins of the 25-Year Rule: The 1998 Amendment
The origins of the 25-year import rule trace all the way back to 1988, a period that differed substantially from the present automotive landscape. During this time, unlike today, individuals were bringing in cars from overseas that weren't officially sold in the USA.
In fact, lots of buyers realized that it was more budget-friendly to purchase a foreign market car and import it into the country rather than purchasing one directly from the manufacturer's US branch. These were known as "gray or grey market cars" imports.
Gray Market Cars
The term "gray market" signified a shadowy realm, vehicles entering through avenues distinct from official manufacturers and dealerships. Consumers shifted from official dealerships to alternative routes, posing financial challenges for manufacturers who were being undercut by gray market importers.
However, grey market imports arrived with a catch. Their designs, while captivating on foreign soil, were not tailored for the American market. Gray market vehicles failed to comply with critical vehicle regulations. The very regulations that ensured clean emissions and road safety were bypassed. The trend for gray market car importers carried profound implications for road safety.
In 1988, the federal government said, "Hold on, let's regulate this." At this point, they put in place the 25-Year Import Rule or the "Imported Vehicle Safety Compliance Act of 1988". It's like a time gate – if a car wasn't sold in the USA but is 25 years old, it gets a green light. This caused a significant drop in the quantity of gray market cars making their way into the country, just as it was meant to do.
Douglas de Board's Game-Changing Influence
Douglas de Board stands as a pivotal figure in the evolution of the 25-Year Import Rule, leaving an indelible mark on the world of motor car enthusiasts. His role in reshaping the rule, particularly in relation to gray market cars and foreign market vehicles, remains a testament to his dedication.
In the early 1980s, de Board found himself in Southern Germany, living as an American expatriate. This period coincided with the heyday of the gray market, a time when enthusiasts were eager to acquire coveted European cars and cheaper models.
De Board's journey was not just about enjoying these European gems; it was about transforming the importation and gray market landscape itself. He recognized the inherent allure of European models and the demand from American enthusiasts. Consequently, he ventured into the lucrative world of automotive gray market imports.
This endeavor was far from straightforward. It required navigating a complex web of regulations and compliance standards set by government agencies, like the Department of Transportation (DOT), Customs & Border Patrol (CBP), and the Environmental Protection Agency (EPA). These agencies held the power to grant or deny entry to an imported car, making compliance with their rules paramount.
De Board's contributions extended beyond personal gains. He engaged with regulatory authorities, actively advocating for changes in the law.
His efforts helped lay the groundwork for the 25-Year Import Rule as we know it today. This rule, allowing cars over 25 years old to be imported without significant restrictions, opened doors for enthusiasts to legally acquire and enjoy European cars.
Through his determination, de Board played a vital role in dismantling barriers that had once limited the accessibility of European classics. His legacy is intertwined with the democratization of the gray market, enriching the American automotive landscape with a diverse array of European cars. These cars have since become cherished classics, celebrated by enthusiasts and collectors alike.
Douglas de Board's impact on the 25-Year Import Rule remains a testament to the enduring allure of unique and historically significant cars, bridging continents to bring antique European vehicles to American roads.
The 25-Year Import Rule Met Some Opposition
The implementation of the 25-Year Import Rule sparked significant opposition among American car enthusiasts, car aficionados, and collectors of classic cars. After all, waiting for 25 years to legally import a car is quite a lengthy and frustrating process!
Despite concerted efforts by car enthusiasts to voice their dissent, including the initiation of petitions and advocacy campaigns, the 25-Year Import Rule has remained unchanged. This has led to continued frustration among those who were hopeful for a revision or repeal of the rule.
Why Do We Have to Wait 25 Years to Import a Car?
The 25-Year Import Rule might leave you wondering why such a lengthy waiting period is necessary.
This rule is rooted in various considerations, primarily around regulatory, emissions, and safety regulations. When a car is introduced into a market, it must adhere to the relevant country's safety standards, crash testing, emissions norms, and other regulatory frameworks. These standards are updated over time to incorporate technological advancements and align with changing environmental and safety concerns.
By imposing a 25-year wait, regulatory bodies ensure that cars entering the country are subject to the standards that were in place when they were manufactured. This period acts as a buffer, allowing for the integration of older cars without causing immediate upheaval in the existing regulatory landscape.
Additionally, it serves as a practical approach to managing the influx of cars while considering administrative challenges that could arise from constantly adapting regulations for every new model.
In essence, the 25-Year Import Rule strikes a balance between welcoming classic cars and ensuring that safety and emissions standards are met. While this wait might seem long, it is designed to harmonize the interests of car enthusiasts, the automotive industry, and regulatory authorities.
Can You Bypass the 25-Year Rule?
After learning more about the 25-Year Import Rule, you might be left wondering if there are other cars that are exceptions or backdoors that allow for earlier cars to be imported.
In specific situations, it's possible to lawfully import a car into the USA, even if it wouldn't typically meet the import requirements of other automakers. So let's explore these situations in more detail:
Registered Importers
Imagine a Registered Importer (RI) as being a certified workshop. These workshops are approved by the state because they are skilled at making the necessary modifications to vehicles imported from other countries. They make key changes so that these imported cars meet specific safety rules that are highlighted in the 1988 legislation.
You can find a list of RIs on the National Highway Traffic Safety Association's website. Keep in mind that not all importers accept vehicles from all countries or work on all car models, so you may need to search for the right one.
Show and Display
In 1999, an amendment to the 1988 Imported Vehicle Safety Compliance Act introduced the 'Show & Display rule.' This allows the import of cars with "unusual historical or technological significance." To qualify, there must be fewer than 500 vehicles of the same model produced, and if the cars are used on public roads, they should drive no more than 2,500 miles annually for the first five years after import.
This means about 65 specific high-end sports and luxury cars can be imported for display or private collection but not for daily use. Examples include the 2002 Nissan Skyline GT-R M-Spec Nür, or the 2003 Aston Martin DB7 Zagato Coupe if you're willing to splurge!
In the past, many people believed that gray market cars could sidestep the 25-Year Rule. However, the landscape has evolved, and authorities have tightened regulations. Today, even gray market imports are expected to comply with emissions and safety standards, effectively eliminating the possibility of using this avenue to bypass the rule.
As tempting as shortcuts might seem, attempting to bypass the rule can lead to significant legal and financial ramifications. If you're considering importing a car, it's advisable to navigate the process within the bounds of the law and seek guidance from professionals who are well-versed in car import regulations.
Remember, compliance not only ensures a smoother import process but also contributes to maintaining the overall safety and environmental goals of the 25-Year Import Rule. After all, authorities implemented the rule to uphold safety, emissions, and regulatory standards across the US.
What Happens If I Decide to Ship My Car Anyway?
Attempting to bypass the 25-Year Rule can lead to serious consequences. Non-compliant cars can be denied entry, seized, or even destroyed. Importers may face legal penalties, including fines and forfeits. Moreover, trying to evade regulations can damage a vehicle's resale value and authenticity, making it a risky endeavor.
The United States Customs and Border Protection made headlines in 2013 and 2014 when officials demolished an imported Land Rover Defender and a 2000 Mini Cooper. These actions were filmed and shared online, showcasing the consequences of flouting the 25-year rule.
With these risks in mind, it is strongly advisable to adhere to the established regulations and not attempt to cheat the 25-year rule.
What's the Process to Verify My Car's Eligibility for Import?
Ensuring that your vehicle complies with import regulations, particularly the 25-Year Rule, is critical in the importation process.
To demonstrate that your car meets the 25-year age requirement for importation, you'll need to provide proof to the relevant authorities, including the Department of Transportation (DOT), Customs & Border Patrol (CBP), and the Environmental Protection Agency (EPA).
Here's a brief overview of the steps that you should take to verify your car's eligibility for import:
Check the Age: Determine the age of your car. If it's over 25 years old, it generally qualifies for import into the USA without any restrictions.
Consult the NHTSA: Visit the National Highway Traffic Safety Administration (NHTSA) website to access resources and information about eligible vehicles. They maintain a list of current vehicles that can be imported and any exceptions.
Registered Importers: Consider consulting Registered Importers who specialize in importing cars. They can guide your specific vehicle's eligibility and navigate the import process on your behalf.
Vehicle Documentation: Gather all necessary documentation for your vehicle, including proof of age, ownership, and any modifications made to comply with safety and emissions standards.
Compliance Modifications: If your vehicle requires modifications to meet EPA emission regulations and NHTSA safety regulations, work with a reputable Registered Importer or authorized modification facility to ensure compliance.
Submit Required Forms: Complete and submit the required forms and documentation to the appropriate authorities. Being well-prepared with the necessary documentation will help streamline the importation process and ensure compliance with the age requirements set by these authorities. This includes:

HS-7 Declaration Form (DOT): If you're importing a car, you must complete an HS-7 declaration form from the DOT. You can typically find these forms at your car's port of entry, or you can download one in advance from the NHTSA website. On the form, in Box 1, clearly state the vehicle's age and check the box indicating it's exempt from DOT safety regulations. If the car's manufacturing date isn't permanently marked on a manufacturer's label, provide documentary evidence of its age, such as the original purchase invoice and/or registration documents.
EPA Form 3520-1 (CBP): Upon arrival, the Customs & Border Patrol should provide you with an EPA Form 3520-1. This form, issued by the Environmental Protection Agency (EPA), requires you to select category 'E' (for exempt) to confirm that the car is over 21 years old. As with the HS-7 form, you'll need to provide evidence of the car's age.

Inspections and Verification: To confirm compliance, prepare for inspections and verification processes. These inspections may be conducted by authorized agencies to ensure your vehicle meets the necessary standards.
Legal Consultation: Consider seeking legal counsel or consulting with experts in import regulations to ensure that you are adhering to all legal requirements.
Do Car Enthusiasts Benefit from the 25-Year Import Rule?
Navigating the complex world of importing vehicles to the United States is no small feat, often involving significant costs. However, the 25-Year Rule brings about new legislation and a set of distinct advantages that can be quite enticing.
Classic car collectors are perhaps the most likely to benefit from this rule. When a particular model becomes eligible for import, it's like striking gold for them.
Yet, the benefits aren't limited to car collectors alone. Even for the everyday car enthusiast, the 25-Year Rule offers a unique opportunity. Being the first among your peers to showcase the latest hot imports is an enticing prospect. This can include iconic models like the Mitsubishi Lancer Evolution III (Evo III) or the Nissan Skyline R33 GT-R.
So, whether you're in the business of classic cars or just someone with a passion for exceptional rides, the 25-Year Rule can open doors to exciting opportunities and unique experiences in the world of automotive imports.
Navigating the 25-Year Import Rule: How CFR Classic Can Help
Now that you've explored the intricacies of the 25-Year Import Rule, you might be wondering how to smoothly navigate the process of importing your dream European classic car. Look no further than CFR Classic, your trusted partner in simplifying car importation.
As a premier car shipping company, CFR Classic boasts a team of seasoned experts well-versed in the nuances of the 25-Year Import Rule. Whether you desire an iconic Mercedes Benz, a refined Jaguar, a classic Alfa Romeo, or any other distinguished European masterpiece, we're here to make the journey effortless.
At CFR Classic, we'll guide you through the entire process, from understanding the relevant regulations to ensuring that your chosen classic car complies with all the necessary standards. Contact us today to find out more.