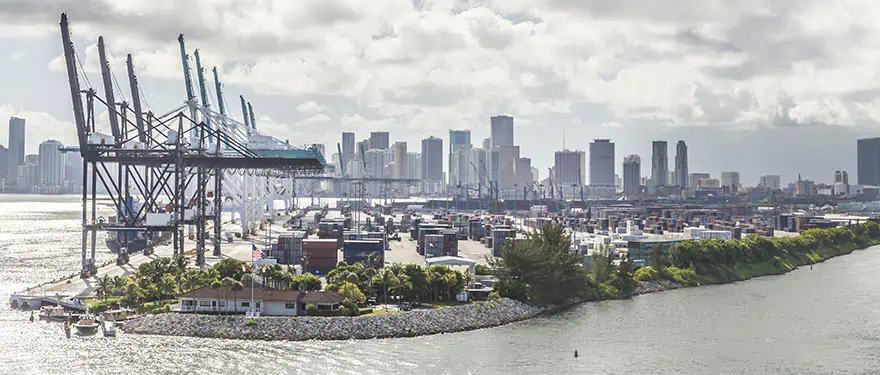 $33 million awarded to Port Miami over the next five years
On the heels of another record-breaking year for both cargo and cruise passengers, $33 million in State grants have been allocated to Port Miami over the next five years. This is another important step that will help the Port better respond to the next generation of cruise and cargo business.
Port Miami had a 14 percent increase in its containerized cargo in 2014-15, and another two percent increase in Fiscal Year 2015-2016 for a total of 1.03 million TEUs, which are the equivalent of a standard 20-foot container. Approximately 4.98 million cruise passengers sailed through Port Miami, a new world record. But even with these accomplishments, the future looks even brighter.
The positive performance report comes as Port Miami starts to receive the bigger ships that are already transiting via the expanded Panama Canal.  Some $1.3 billion were invested to dredge and widen Port Miami's shipping channel to -50/-52 ft., complete a new port tunnel to speed vehicular traffic, acquire four Super-Post-Panamax cranes and build an on-port rail link.  The Port is big ship ready, and it anticipates continued growth as some of the world's largest ocean carriers have formed alliances and deployed bigger vessels for their international shipping routes.  Additionally, cruise line partners have also announced their plans to expand business at the Port.
Royal Caribbean Cruises has begun work on a $200 million expansion that includes a new cruise terminal as part of a public-private partnership.  Carnival Cruise Lines' Vista and Regent Seven Seas' Explorer are scheduled to arrive this winter.  MSC Cruises plans to homeport its MSC Seaside in Miami beginning in the winter of 2017.  Sir Richard Branson's Virgin Voyages will bring one of their three new ships to Port Miami and start offering seven-day vacations to the Caribbean in 2020.
The $33 million in State grant allocations will also help fund the expansion to Cruise Terminal F into a mega cruise facility able to process more than 5,000 cruise passengers at a time.   Funds will also be utilized for the procurement of three additional Super-Post-Panamax cranes, as well as upgrades to cargo terminal yards in an effort to create efficiencies in operations for higher densities in container throughput.  In addition, the grants will help support the development of a future inland intermodal facility.
"I want to thank our State and local leaders for their support in securing the $33 million in future State grant allocations for Port Miami," said Miami-Dade Mayor Carlos A. Gimenez.  "Our Port is a vital economic engine for not only Miami-Dade County, but all of South Florida and its continued growth represents thousands of jobs and increased opportunities for our community."
About Port Miami
Port Miami is among America's busiest ports and recognized as a global gateway. Port Miami contributes more than $27 billion annually to Miami-Dade County and generates 207,000 direct, indirect, and induced jobs.
Source: Port Miami.