Have a dream car? Read this.
Ever think about finally buying that classic car you love from back in the day, but too intimidated by the whole process? We're here to ease some of those concerns and provide you with some tips to make the process as smooth as possible!
We know that pulling the trigger on a new car purchase can be super exciting! However, unless you have come across a one-of-a-kind, rare car, we recommend that you don't just purchase the first one you find. Shop around, find one in the condition you are looking for or close to it. Don't be discouraged by some high prices – A classic car's value varies depending on condition, so you can often get a great deal on one that may require some work! Not sure what you should be paying for a particular classic? Hagerty has an insightful valuation tool that provides you with current and past values, along with future predictions. When you're ready to purchase, be sure to check out our SafePay service to have CFR securely handle the payment of the vehicle, no matter where in the world it is.
If you are unable to purchase the car in person, be sure to ask for photos of all angles of the car, VIN number, and a walk around video with the car starting and running (if operable). You may also opt to use a car inspection service for added peace of mind. This will reduce the chance of having surprises when the car gets to you!
Where to search for your classic car – Our dealerships page is a great place to start your search. All listings are dealerships that we have either worked with or vetted with information provided to us. For non-dealer listings there are a few trustworthy auction sites such as Barret-Jackson, Bring a Trailer and Hemming's. Car shows and meets are also a great place to network and find owners that are ready to part with their classic rides!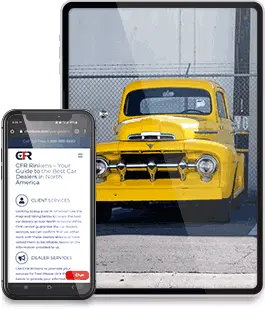 Things for first-time classic car owners to take into consideration:
Classic car insurance may be a good option for you. Regular car insurance policies typically aren't catered to classic cars! Take a look at Hagerty insurance and other companies to see whether it suits you.
If your classic wasn't recently restored, you may need to put in some work to have it running the way it should! Don't be afraid to pull up some YouTube videos and get under the hood yourself.