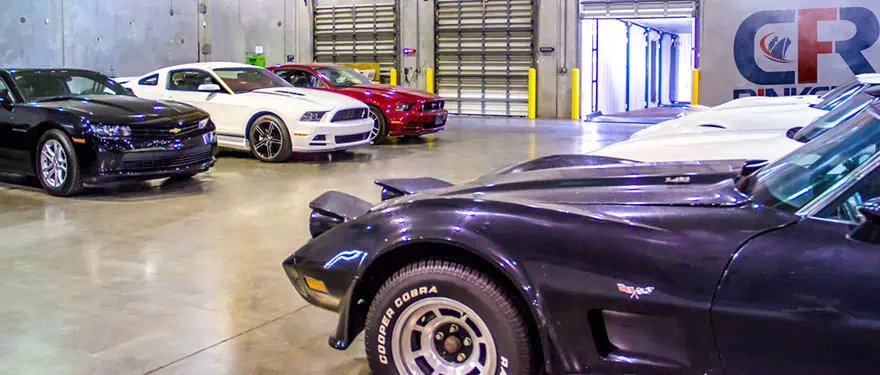 The Antique & Exotic Car Transport Experts
CFR Classic has been shipping high-end classic cars internationally for the last 20 years, specializing in transporting vehicles from dealerships, auction houses and private sellers across the USA. We offer expert antique & exotic car shipping – currently shipping an average of 1,500 cars every month, from all over the United States and Canada to the rest of the world. In addition, we ship hundreds of motorcycles, boats, RVs and other vehicles of any kind.
CFR Classic prides itself in having its own domestic trucking department that can pick up any vehicles from anywhere in the United States, usually within just a few days. Shipping an antique or exotic car from your location is easy:
Drop off your vehicle at one of our convenient locations, or arrange for vehicle pickup. Our carrier picks up your vehicle and delivers it a short distance to our local terminal.
At our terminal, we safely secure your vehicle in a fully ENCLOSED trailer, documenting the loading process with photos, available online for your review.
For domestic car shipping, your vehicle moves via non-stop intermodal service to our terminal across the country. We also offer International Roll On/Roll Off shipping for antique and exotic cars, as well as Shared and Dedicated Container Shipping. Online tracking of your shipment is available for your convenience.
Upon arrival to destination terminal, your vehicle is available for pick-up or delivered to your door.
All we need is the address and contact information where the vehicle needs to be picked up – and our team gets right on the job. We can ship antique & exotic cars from your location to the port in an open carrier truck, or with the added security of an enclosed transporter. Once the vehicle arrives at one of our port terminals, we prepare the overseas shipping. Our expert shipping agents are ready to assist you every step of the way.
Protect Your Investment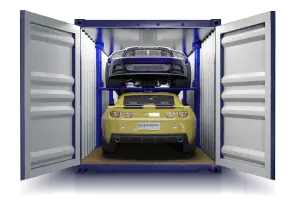 In 2011, CFR introduced a revolutionary new method for stacking cars in containers which makes it possible to load three, four, or even five cars safely into an ocean container. The traditional method of stacking cars in containers is to construct wooden ramps and load the cars onto those ramps, which is not only much more complicated and less safe, but also environmentally unfriendly.
With our industry-leading R-Rak system, we've made loading vehicles into shipping containers safer and easier. This modern winch-operated system doesn't need to use forklifts for vehicle loading, eliminating the chance of damage to the vehicle. When it comes to antique & exotic car shipping, safety and efficiency are our top priorities.
See why many Fortune 500 companies and auto manufacturers have chosen CFR Classic as their premiere vehicle shipping solution. Our expert shipping agents are ready to assist you throughout the whole shipping process. We provide reliable nationwide coast to coast transportation, as well as international vehicle shipping. Depend on us for reliable and expedited antique & exotic vehicle relocation services – Request a quote today.